The American Golf Memories Project
Pete Dye Chapter - TPC Sawgrass
A Sister-Program to the Carnoustie Golf Memories Project - Scotland
(Pictured above is the Carnoustie Golf Memories Group on October 2018)
The American Golf Memories Project - Pete Dye Chapter at TPC Sawgrass is the first Golf Memories Project founded in the United States. It is patterned after the Carnoustie Golf Memories Project led by dedicated local leader Lorraine Young and her group of fellow volunteers. It is part of the broader Sports Reminiscence concept under the banner of the Sports Heritage Scotland group.
Over 300 Scottish programs serve the sports communities of cricket, curling, football (American soccer), rugby, shinty and golf in Scotland. As a fairly new concept to the United States, an early pioneer in promoting the concept was the late Dr. Michael Ego of the University of Connecticut. Several baseball programs currently exist across the United States, but the American Golf Memories Project is the first in golf. It was founded with a desire to share and expand programs to all 50 States and Canada. It was founded by Billy Dettlaff, PGA Master Professional, noted golf author and historian. The existence of the U.S. program owes its loyalty to Young, Carnoustie and the Sports Heritage Scotland group for their remarkable support and sharing of materials.
Golf Memories is based on serving the Alzheimer's and dementia communities through monthly meetings of about 90 minutes. The purpose is to bring lifelong golfers together in a club atmosphere to offer mental exercises geared for positive recall of experiences in golf dating back as early as childhood. Various group exercises include photo recognition combined with historical facts geared to trigger positive memories. The low-pressure atmosphere is ideal for group chatter and discussion, much like participant's prior experiences at clubs and in competition. Caregivers and family members are encouraged to attend the meetings. Feedback has proven the positive nature of the monthly meetings for all club members.
It is important to note that the programs are free of charge to all participants.
For more information on the group or starting your own local project, please contact Billy Dettlaff at:
Due to continued Covid Concerns monthly meetings have been suspended.  Watch here for potential new dates in the future!
Please contact us at anytime with names and contact information for those who would benefit from our program!
Group photo from our July 2019 Meeting - TPC Sawgrass Pete Dye Chapter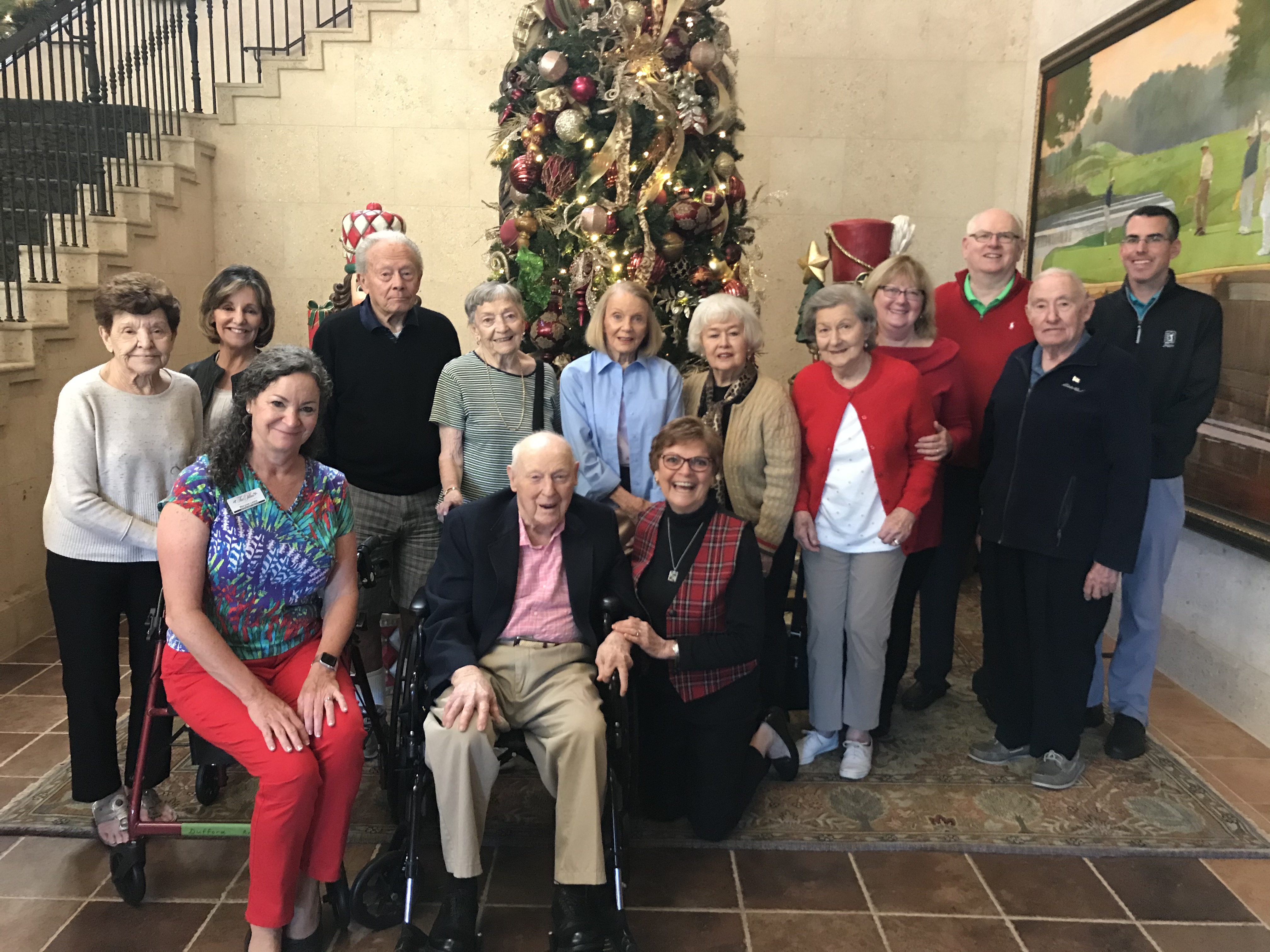 Holiday Party 2019 - TPC Sawgrass Pete Dye Chapter
Inaugural American Golf Memories Project Member Betty Fairchild (center) with her daughter Barbara Levine and American Golf Memories Project Founder Billy Dettlaff at the first meeting of the Pete Dye Chapter - TPC Sawgrass January 28, 2019.