Author
Billy Dettlaff, PGA
The Dettlaff family has been in the game for 113 years, ever since the author's father Hank became a caddie at the age of nine in Oshkosh, Wisconsin in 1907. He turned professional in 1921, and over the next 35-years served the residents of Oshkosh as a noted professional - teaching, playing competitively on the early PGA Tour, greenkeeping and even designing a few local golf courses.
The author graduated from the University of Wisconsin Oshkosh in 1973 majoring in Journalism. He pursued a career with a suburban Chicago newspaper chain as a photographer rising to Managing Editor. In late 1978 the draw to follow in his father's footsteps took him to South Florida and Inverrary Country Club where he earned PGA Membership in 1981. In 1988 he attained the PGA's highest status as Master Professional #57.
Billy spent 22 years with the PGA Tour's TPC Network as a Director of Golf / General Manager, Regional Director of Operations, and as the network's first National Director of Golf based at TPC Sawgrass. In 2007 for the PGA Tour he wrote his first book, A Storyteller's Guide – THE PLAYERS Championship and TPC Sawgrass.
Since his retirement in 2009 he has worked full-time expanding his Master Professional thesis on the history of the golf profession into a detailed study on the subject. Nearly seven years of research has delivered a 1500 page / 450,000 word paper on the subject published as Doctors of the Game® in September 2016. In 2015 the PGA of America chose to use a greatly condensed version of his writings for their 208-page release, The Official Centennial Commemorative Book – The History of the Golf Professional.
Now Billy is proud to release a memoir on his early years in golf. Summers at the Muni documents his first twenty years of life growing up in a golf family inspired by a father's legacy. Focused on the 1950s and 1960s Summers is a heartwarming at times funny story about life in the Baby Boomer Generation. The book was released in the fall of 2020.
Dettlaff resides in Ponte Vedra Beach, Florida with his wife Geraldine. Together they have four children and eight grandchildren. His stepdaughter Debbie Foley is a PGA Certified Professional and their son Hank is a PGA Class A Professional.
Editor (Doctors of the Game®)
John Steinbreder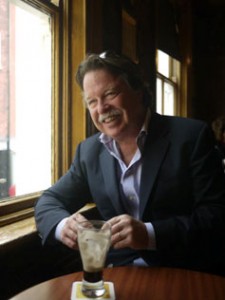 John Steinbreder is an award-winning journalist and the author of 19 books, including Club Life, Golf Kohler, From Turnberry to Tasmania, The 3-Degree Putting Solution (with Michael Breed), Golf Rules and Etiquette for Dummies, 18 Ways to Play a Better 18 Holes and Golf Courses of the U.S. Open. A senior writer for Global Golf Post, he also contributes to Masters.com, the official Masters website.
Previously, Steinbreder worked as a reporter for Fortune magazine, a writer/reporter for Sports Illustrated and a senior writer for Golfweek. He has also produced articles for several prominent periodicals, including The New York Times Magazine, Departures, Forbes Life, the Wall Street Journal, Time and The Weekly Standard. In addition, he has composed chapters for a number of books, among them The Sports Illustrated Almanac, 1001 Golf Holes to Play Before You Die, A Walk in the Park and The Final Four of Everything.
An avid golfer who carries a USGA index of six, Steinbreder has reported on the game on five continents and received ten honors for his work from the Golf Writers Association of America, and 17 from the International Network of Golf.
He lives in Redding, Connecticut with his wife Cynthia and their daughters Exa and Lydia.
Book Designer
Rob Knox
Rob is a professional creative who studied at Flagler College in St. Augustine, FL. He specializes in graphic design, illustration, photography services, and fine art, serving clients across the country. Outside of creative endeavors he enjoys spending time with his family, outdoor activities, cooking and movies. He designed both Doctors of the Game & Summers at the Muni.